Shahid Afridi has announced his retirement from all forms of cricket, citing that the current board has been disrespectful and completely unimpressive for cricketing administration. Afridi who has retired before many times from test cricket has now announced his retirement from the limited overs if we can call it that. Afridi who said that he will play for Pakistan if a new board (meaning Ijaz Butt and his men leave the PCB) takes control. So is this an actual retirement or just another 'self imposed exile' that Pakistan politicians, and illegal smugglers and business men often do?
Pakistan is a volatile country and the cricket there is in shambles. In the last few years under Ijaz Butt's reign Pakistan has had nine different captains for it's test and ODI teams, five different selection committee leader, and 3 coaches. If that doesn't show instability, then here's more to ponder about. Mohammud Yusuf and Yunus Khan have been handed open bans (which was later cancelled) and the former like Afridi went into a 'retirement' (self-imposed exile). Shoaib Malik and Rana Naved Ul- Hassan were also handed one year bans (which barred them from competing in the world cup and the ban was overturned as soon as the tournament got over.). Mohammud Amir, Mohammud Asif and Salman Butt were all caught in the spot fixing scandal during this time and also Afridi's many run-ins with the match referee's such as the 'ball biting' incident took place under Butt's 'watchful rule'. Add to this the time when terrorists attacked the Sri Lankan player's bus and his frequent run-ins with the senior players, the captains and the coaching staff, you've got yourself PCB's golden boy. There's still so much more and mentioning them will just make it all disgusting to read. Plus it's quite a long list, so I'll save your time by saying that Butt is the problem and he should be shown the door for the better of Pakistan cricket. It's ridiculous the way PCB is being run. I bet a 10 year old boy would have better sense and direction than the current PCB management.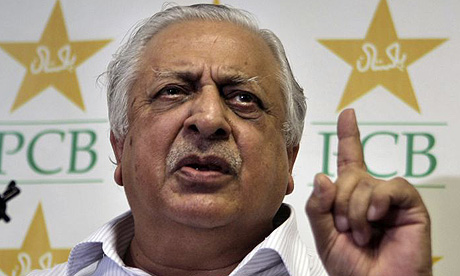 I should be happy that Afridi is leaving the game, but I'm not all that pleased. In my opinion he is a cheat. The way he celebrates extravagantly when he picks up a wicket, or the various incidents as the biting the ball, running on the pitch to damage it just underline what I've stated. He also manipulates the media brilliantly and often says two opposite things to different TV channels. However with all these he still remains as one of Pakistan's most inspirational players whom the players all rally around. Yunus Khan is another one but he like Afridi is at disfavor with the board. And the way he has led a group of rag torn young men and compete against the best of teams is admirable. He's one of the few remaining people in Pakistan who have the courage to stand up to the board and if people like him disappear, then surely Pakistan will just fall into even more turmoil.