Yesterday, was a day that would be etched in the memories of all English and also every other cricket follower.
The day would not only go down as 'England regained the Ashes' day but also the day when 'perhaps England's best all-rounder was seen wearing a white shirt with the three lions.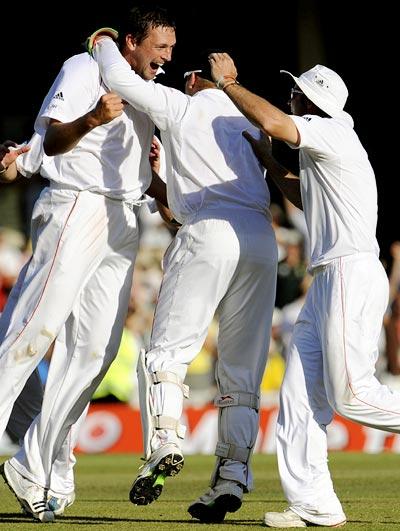 After the English managed to score 373 in the second innings, the match was all but over. The Aussies did a brilliant fight back but on a pitch that claimed 23 wickets in just the first two days, little could be done to prolong the inevitable. Micheal Hussey alone stood tall among ruins as the English cruised to a 197 run victory and thereby regaining the prestigious Ashes urn.
England after 2005 have been through troubled times and especially after the disappointing white wash down under a few years ago, England though favorites were always viewed with doubt and speculations. Strauss who took over the reigns after the controversy between Pietersen and Moores, and when English cricket was truly into troubled times has molded a team that has regained the ashes.
Andrew Miller writes,
"He took over with England in turmoil, but in eight months has forged a team that has regained the Ashes. For Andrew Strauss there can be no praise high enough."

Surly this is Strauss' finest hour. Comparisons will soon be made between him and Micheal Vaughan, I'm sure.
The Oval was also the place where Andrew Flintoff bid adieu to whites. The burly all-rounder who had inspired so many English victories probably couldn't have asked for a better farewell.
Surely a new era has emerged under a new brave captain.