What a match we had yesterday!!! It was like a final with intense rivalry and madness. India versus Pakistan again turned out to be treat for the eyes as Mumbaiker Rohit Sharma came of age. The lazy elegance of the under 23 Citi player in the IPL captured every single eye in the world. With his amazing wristy shots, the pulls along the ground and his drives in the 'v' make him a classical talent that promises so much in the near future.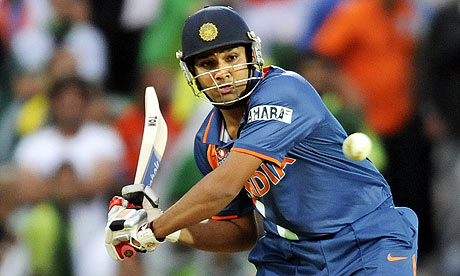 10 Reasons why Pakistan lost yesterday........
1.)
India has a perfect record against Pakistan in World Cups and have always returned as Champions in all encounters between the two rivals in the past. Stats definitely favour India.
2.)
Ahmed Shehzad's breezy innings came to an early end due to his inexperience. Still the 17 year old boy from Lahore has captured my eyes. How sweetly he times the ball !!!!
3.)
Afridi again fails with the bat. I just wonder why he goes so hard against Irfan Pathan first ball.
4.)
Raina's brilliance in the field awarded India a timely run out of Kamran Akmal and also the wicket of the 17 year old opener.
5.)
Ishant Sharma bowled a feisty spell and had outstanding bowling figures of 3 -1 -11- 1. The conditions in England will suit him perfectly.
6.)
Rohit played the innings of his life as he raced away to 80 of just 53 balls. His lazy elegance makes him a treat for the eyes. His head is so still when he drives and what a pair of wrists has!!! And he found an ideal partner in Gambhir who steered the ship home with an unbeaten half century.
7.)
India were aided by the Pakistani fielding. The fielding was below par for even an domestic match. There was no pressure and the Indians easily stole runs.
8.)
Yunus Khan's captaincy was so predictable. He got all his fielders in the wrong positions and had trouble motivating his team (not that I blame him). Malik was probably a better captain than him. I just don't understand why he introduced Tanvir so late in the match.
9.)
The Pakistani bowlers too gifted the Indians free runs as they conceded way too many extras. Added to this the bowlers were erring in line and found it difficult to bowl to the right - left hand combination.
10.)
The Indians have played alot of cricket in the past six months (maybe too much), while the Pakistanis have hardly played a few match. This was probably the biggest reason for the defeat.
But, still what an eccentric match it was. A match for peace efforts that brought
two cricket playing nations closer
(or at least I hope it did).
I conclude this by saying Chak de India.